Best Arab Dating Sites And Apps
While many Arab singles end up using Muslim dating sites and apps to meet their match, there are a number of Arab dating sites that are exclusively dedicated to Arab singles. These sites cater to single Arab men and Arab women who may be Muslim, Christian, Druze, Baha'i and so on.
Our recommendation for single Arabs seeking dating or marriage is ArabLounge.
Review of ArabLounge
So far as we can tell ArabLounge is the largest and most popular of the dozen or so Arab dating apps and sites we reviewed. ArabLounge, which is available in English, Arabic and French, has a diverse pool of Arab singles with roots from Lebanon, Egypt, Palestine, Tunisia, Saudi Arabia, Iraq, Kuwait, Algeria, and other MENA/Gulf countries. Its diversity is also reflected in the religious backgrounds of its members as a good percentage of them are Arabs of the Christian faith.
The location of their members spans the globe. In the US, you will find a healthy number of Arab singles from Los Angeles, Dearborn, San Francisco, Chicago, Dearborn and the Washington DC area which includes parts of Maryland and Virginia. Given that the site is available in French, you will also find many French-speaking Arab-Canadian singles from Vancouver, as well as Toronto, Montreal and Ottawa. You will also find a respectable pool of single Arabic women and men based in the UK, specifically in London.
Site Features: Some of the site features on Arab Lounge includes real-time chat, a helpful profile badge that identifies for you who is, or is not a Platinum Member. Another thing we liked about this dating site is how responsive the customer service team was to our inquiries. If forking over money for a premium dating site, it's always good to know that the customer service team is there to answer your questions. Also, from time to time they offer promo codes that will reduce the cost of your membership.
Please click here to register to Arab Lounge and best of luck in your search for a special Arabic woman or man on our best-rated Arab dating site!
Rating:     
---
The 6 Best Arab Dating Sites and Apps
What is the best Arab dating site and app? Below is our list of the 6 best Arab dating sites and apps for meeting Arab women and men near you. The #1 best-rated Arab dating site & app is Arab Lounge. Whether seeking dating opportunities or meeting someone with marriage in mind, the apps and sites below should be helpful. We wish you the best of luck in meeting your Arab match!
The top Arab dating service is available both on the web and as an app, ArabLounge is our #1 rated Arab dating service for the Arab diaspora. Site features include chat and many photo galleries, which you can browse for free. It's a great dating service for singles who are serious about meeting their Arab match. Join for free today!
If you are open to meeting both Arab and non-Arab Muslim singles, then Salaam Love is it! We love their easy-to-use features, chat, and informative profiles. Join Salaam Love for free today to meet your Muslim match!
A great service that excels in helping Arab men meet, date, and marry Arab women living in the Missle East.
A good Arab dating app that is available in the Google Play Store and iOS. Hundreds of thousands of members from the US, Arab World, Europe, Canada, and Australia. Hundreds of new members join each day.
Arab Matchmaking is geared towards the Arab diaspora. The site features a chat feature and an easy interface for meeting single Arabs. Click here to register.
A free Arab dating site for Arabs worldwide. This service is especially good for singles living in the Middle East. Many members are online, and a good chat feature makes this a worthwhile service to check out.
***
---
Review of Notable Arab Dating Apps & Sites
LebaneseSingles.com is an Arabic dating site that specializes in matching up Lebanese singles. But don't be fooled by the name, the site offers search filters that allow you to view profiles of Arabs who are not of Lebanese descent. While free to register, the site is for more serious minded and Lebanese singles as it requires a membership to unlock communication. If looking for single Arabic women or Arab men of Lebanese descent, Lebanese Singles might be the right Lebanese dating site for you. Click here to join.
---
buzzArab is a free Arab dating app and Arab matching site. The site is clean, has good functions and is one of the better free Arab dating apps. Like all free Arab dating services you will find the site full of banner ads. If this does not annoy you, buzzArab is a good free alternative to the more serious minded singles you will find on paying sites. Click here to join buzzArab.
---
ArabMatchmaking is another Arab dating app for Arabic women and men that also offers a web version of its service. Registering is free on Arab Matchmaking, but you will need to upgrade to a membership to unlock all communication. The site offers a healthy and growing number of single Arab men and Arab girls located in the US, Canada, UK and across the Middle East. The features are run of the mill (typical), but the site is quite fast and easy to navigate.
---
Iraqi Singles is another niche Arab dating app / site that makes it easy to meet single Iraqis and chat with Arabs. The site has a good number of single Iraqi men and Iraqi women residing in the US, Canada and the UK. The site has a membership fee that when purchased allows you to communicate with all members on the site.
---
LoveHabibi is an Arab dating site where you can meet your habibi or habibti. The site has members from all over the world and like some of the other sites, like ArabLounge, there is a few to unlock chat and communication. They do however offer a lifetime membership which may make more sense for those who like the service, than to pay recurring fees month after month. The pool of Arab singles, especially Arabic women and Arab girls in the US, seemed a bit smaller than many of the other sites we reviewed but nonetheless, LoveHabibi does offer value and opportunities to meet your match.
---
EgyptianSingles is, you guessed it, a site for single Egyptians looking to meet their match. While the site defaults to only showing you single Egyptian men and women, there is an option to view Arab singles who are not of Egyptian descent. As a result, this site is much more than just an Egyptian dating site — really, more than anything it's more of a Middle Eastern singles site.
---
Last but not least there is also a dating site that caters to Palestinian men and women, PalestinianSingles.com is a place where Palestinians can safely meet. The search features are good and there are significantly more Palestinian profiles than we anticipated. Click here to explore Palestinian Singles.
---
Arabian Date is a relatively new dating site catering to Arabs worldwide. In addition to their site, they offer a version of their Arab matchmaking service via an app for both iOS and Android users. Like many of the mail-ordered bride services for men seeking Arab girls, the site operates off a credit system and in order to communicate with members, you will need to purchase and use your credits each time you wish to send a message. If looking for Arab singles living in the Middle East, Arabian Date may be a good fit for you as they seem to have more international (overseas) members than they do Arabs living in the US, Canada or UK. Click here to join Arabian Date.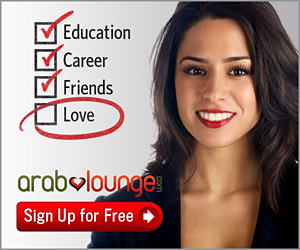 ***
Best US Cities For Meeting Arab Singles
Search By US State
Choose a state to find local single men or women in your city
Popular US Cities
Choose a popular US city to meet local singles near you
Canadian Provinces For Meeting Local Singles In Your City
Popular Canadian Cities
Choose A UK Region To Meet Singles in Your City
Popular UK Cities
***
Local Date Ideas For Arab Singles
Going on a date with an Arabic woman or man that met on a dating site or Arab dating app? Below are some recommended date ideas, mostly restaurants, in California, New York, Michigan, Florida, Texas, Illinois, New Jersey Massachusetts, Ohio, Pennsylvania and Virginia.
Dearborn, Michigan
Sahara | Middle Eastern Food
22815 Michigan Ave
Dearborn, Michigan 48124
"I met a really nice Arab girl on ArabLounge and took her to Sahara for our first date. I wanted something casual with authentic Arab food. This place is a winner."
---
Dearborn, Michigan
Beirut Bakery | Lebanese Bakery
25706 Schoolcraft
Redford, Michigan 48239
"The best bakery ever..  the chicken shawarma is one of the best I've ever had. Staff is Always very friendly and helpful."
---
Dearborn, Michigan
Sky Lounge Cafe | ArabLounge
13209 W Warren Ave
Dearborn, MI 48126
"I'm not a smoker so I can't comment on the quality of the hookah. Food is good, the lounge atmosphere is nice for hanging out, and they're open pretty late with free WiFi so it's a cool spot if you want to study with friends. It's a cool ArabLounge with a good mix of Arab men and women."
---
Sterling Heights, Michigan
La Saj Lebanese Bistro | Lebanese, Arabian Food
13776 Southcove Dr
Sterling Heights, MI 48313
"This was the best middle eastern food I have ever had… no exceptions! The pita bread was in a container that kept it piping hot and the hummus was fantastic."
---
Sterling Heights, Michigan
Asya Middle Eastern Cuisine
31011 John R
Madison Sterling Heights, MI 48071
"Delicious food and a great Arab vibe. A good date night joint that I recommend."
---
Sterling Heights, Michigan
Chickpea Kitchen | Middle Eastern
39525 Mound Rd
Sterling Heights, Michigan 48310
"Tried this for the first time last night I was amazed. I got the salad bowl with chicken cream chop. And wow was the chicken yummy !! I don't like the rice options though it would be better if it was like yellow rice or brown rice mixture more Middle Eastern."
---
Jersey City, New Jersey
Gypsy Grill | Middle Eastern, Halal
187 Newark Ave
Jersey City, New Jersey 07302
"The half chicken is FLAMES. Shawarma is off the hook! And that hot sauce they got in there is super flames"
---
Jersey City, New Jersey
Jersey City, New Jersey
Westside Shwarma | Middle Eastern
West Side Ave
Jersey City, New Jersey 07304
"I ordered the lamb over rice with my Arab girlfriend and it was delivered 5 minutes later than listed. However, it was some of the best cart food that I've ever eaten. The lamb was tender, juicy, and seasoned beautifully. The hot sauce was actually spicy, and the accompanying tomatoes/lettuce were fresh and tasty."
---
Allentown, Pennsylvania
Damascus Restaurant | Middle Eastern, Mediterranean
449 N 2nd St
Allentown, PA 18102
"Great Syrian food and a thoughtful and lovely family owns and operates this small neighborhood establishment."
---
Allentown, Pennsylvania
Lazeez Fresh Mediterranean Grill
4666 Broadway
Tilghman Square Plz
Allentown, PA 18104
"Lazeez translates to delicious in Arabic and this place truly lives up to its name! One of the best restaurants in Allentown"
---
Los Angeles, California
Cloud Vibes Hookah Lounge
4730 Eagle Rock Blvd
Los Angeles, CA 90041
"It's a fun and swanky place. A good after hours spot with lots of single Arab girls and guys on Friday and Saturday nights."
---
Los Angeles, California
Fatima's Grill | Lebanese
7840 Firestone Blvd
Downey, CA 90241
"Solid Lebanese food for a GREAT price! Owner is of Lebanese background, influenced by regional mex-american cooking; The food perfectly captures his influences -There are several variations of lebanon-texmex hybrids, as well as traditional plates from both genres."