Best Greek Dating Sites & Apps
A
re you looking for your own "
Big Fat Greek Wedding
", or possibly something less serious to start with, like chatting with Greek singles, forging new friendships, and possibly going on a few dates? Luckily for Greek singles out there, there is a decent number of available Greek dating sites and Greek dating apps to choose from, but for the sake of not wasting time and avoiding too much trial and error, our list of
Best Greek Dating Sites And Apps
should come in handy.
Coming in at #1
is the most popular of the bunch,
EligibleGreeks.
Overview of Eligible Greeks
EligibleGreeks is a wonderful dating site for meeting Greeks in the US, Canada, Australia, the UK, Cyprus, Greece and elsewhere. The site is available in English and Greek, the result of which allows them to promote the site to Greeks worldwide.
The site is geared towards more relationship-minded Greek singles who are less interested in swiping for days on end, and more focused on making a real connection with someone looking for more than one night stand. The search filters on the site are solid, allowing you to apply various filters, including location, height, weight, body type, hairstyle, profession and so on. As a result, you can really narrow down your search to those Greek singles that meet your personal match criteria.
Registration on the Eligible Greeks dating app is quick and creative — Facebook connect is a registration option for those who do not mind sharing their activity with the social networking behemoth (though we do not recommend it).
Once registered, most of the features are free of charge, but to unlock ALL of the features (and there are many), you will need to upgrade to Platinum. By doing so, all search filters will be made available to you and more importantly, you will be able to read all the chat messages received. Another nice perk of being Platinum is that this allows non-Platinum members to message you. As a result, Platinum Members receive much more activity as anyone on the site can communicate with them free of charge.
In short, if you're looking to meet single Greek women or Greek men, Eligible Greeks is your best choice and the Greek dating site we recommend above the others. Good luck /Καλὴ τύχη in your search for meeting a compatible Greek match in the US, Greece, Canada or wherever you reside!
Rating:

Join Eligible Greeks
---
The 7 Best Greek Dating Sites and Apps
Eligible Greeks 🔥

Greek Dates

Greek Singles

Greek Dating Site

Agape Online

Anastasia Date

Greek Connection
***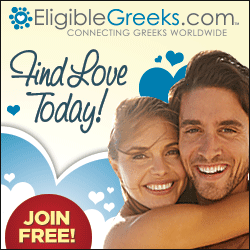 ---
Reviews of Notable Greek Dating Apps & Sites
Greek Dates is the sister site of Eligible Greeks, so you can more or less expect to receive the same experience and possibly see many of the same members. This Greek dating site launched around 2002 and offers a good feature set to help you meet a compatible Greek partner. Registration is free, as are many of the other features. Click here to join GreekDates.
---
Launched in 1998 Agape Online is another Greek dating for you to consider. They offer a free trial and profiles are pretty informative. While they do not offer an app and the web version is a bit dated, you can nonetheless get good mileage out of this site for meeting single Greek women and men. Click here to register to Agape Online.
---
Greek Dating Site is literally a Greek dating app for Greek singles in Australia. If living outside of Australia you won't get much use out of it, but if living in Australia or looking to move/date Greek singles from there, this might be the site for you! Click here to join Greek Dating Site.
---
Greek Singles Online is another smaller Greek dating app that does offer some decent opportunities for meeting Greek singles. The site is premium, meaning that you will need a membership to enjoy all the site features. Click here to visit Greek Singles Online.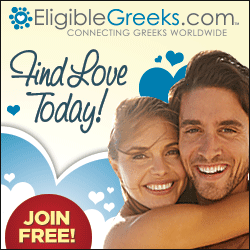 ***
Local Date Ideas For Greek Singles
Planning a date with a single Greek woman or man that you met online or on a Greek app? If so, here are some local date ideas for you to consider. The list is largely a list of the best Greek restaurants in various locales with a large Greek population.
Astoria, New York
Koroni Souvlaki | Greek, Mediterranean
29-37 Newtown Ave
Astoria, New York 11102
"Awesome food, My favorite when I visit Astoria. Owner is very nice, service is great also. Fantastic spot to eat authentic Greek food."
---
Astoria, New York

Brothers Taverna | Greek, Mediterranean
23-01 Steinway St
Astoria, New York 11105
"My favorite chicken gyro in Astoria. Good options for variety of meat. Tirokafteri is delicious!"
---
Boston, Massachusetts

GreCo | Greek
225 Newbury St
Boston, MA 02116
"Your insatiable need for Greek food meets a dead end at GreCo. You have options of choosing or building your own gyro, salad or a plate with proteins and veggies. The interesting part is to choose the sauces and my fav is the spicy feta."
---
Boston, Massachusetts

Saloniki Greek
4 Kilmarnock St
Boston, MA 02215
"The Greek Fried Chicken (now the Yanni I think): The breading is solid and the meat quality seems to have improved. Tasty and quick, I usually get the pita. It can be a little dry so make sure to add the special lemon sauce."
---
Chicago, Illinois

Greek Islands Restaurant
200 S Halsted St
Chicago, Illinois 60661
"This is by far the best Greek restaurant I've been to outside of Greece! The food was amazing, every dish that I had was WOW! My favorite – pan-fried smelts, village salad and roast loin of lamb."
---
Chicago, Illinois

Athenian Room
807 W Webster Ave
Chicago, IL 60614
"Love, love, Love the Athenian Room. We have been not been back here since we moved away to the East Coast four years ago. So much has changed in Chicago since we've been away, but I am happy to see this place is still here and is as good as ever! Great Greek food and brings back lost of memories since my first date, with now my wife, was there!"
---
Vancouver, Canada

Nammos Estiatorio
3980 Fraser Street
Vancouver, BC V5V 4E4
Canada
"Local greek restaurant around Fraser Street! I'm actually so happy that I live nearby this restaurant. I honestly don't know why I've been walking/driving by this place so many times and not given this place a chance. Been on a few Greek dates at this place."
---
Vancouver, Canada
Mythos Taverna
132 West 3rd Street
North Vancouver, BC V7M 1E8
Canada
"Amazing restaurant for date night ! My boyfriend and I went there for dinner, at first we weren't sure about the place. It seemed dark and small from outside. However, it has a great and big area and also perfect lighting."
---
Toronto, Canada
Pantheon Restaurant
407 Danforth Avenue
Toronto, ON M4K 1P1 (GreekTown)
Canada
"I've been to Patheon a few times now and this is go-to place for dine-in Greek food."
---
Toronto, Canada
Athens Restaurant
707 Danforth Avenue
Toronto, ON M4J 1L2
Canada
"Fantastic Greek food and their app is super easy to use for delivery."
---
US Towns and cities with the highest percentage of people claiming Greek ancestry
Tarpon Springs, Florida 10.40%
Campbell, Ohio 9.30%
Lincolnwood, Illinois 7.60%
Plandome Manor, New York 7.50%
Englewood Cliffs, New Jersey 7.20%
Allenwood, New Jersey 6.60%
South Barrington, Illinois 6.00%
Palos Hills, Illinois 5.40%
For a review of our best online dating sites and apps for other niches, please click here.